Reading Time:
7
minutes
The to-do list for board administrators and staffers seems never-ending when it comes to board meeting preparation. And the fact that board members have to receive all the materials with ample time to prepare before the meeting makes it even more overwhelming.

How well you conduct pre-meeting preparation determines whether the meeting will be effective or not. And for a meeting as important as a board meeting, there is no room for ineffectiveness. To help you learn how to run an effective board meeting, this blog will first take you over the importance of board meeting preparation and then give you tips on preparing for your next board meeting.

Why Preparing for a Board Meeting is so Important
Can you collect and organize all board materials in time?

Can you meet the deadline of sending all board documents to directors a week before the meeting?

Is everyone clear on whether the board meeting is in-person, virtual, or contains both types of board-meeting attendees?

Can you make all last-minute changes and additions on time?
No, not without an effective plan that covers all details. Preparing for meetings involves more than the basic where, when, and why. It also involves ensuring all board members understand well in advance all the meeting details to prepare appropriately and contribute to the meeting. The better your pre-meeting preparation, the more productive the meeting will be.
Board Meeting Presentation Checklist
Preparing for a board meeting takes up to months and involves several steps with lots of tasks and details. Even if you're experienced in planning meetings, it is easy to forget or miss a detail, task, or step, leading to an ineffective meeting. That is why you should use a board meeting preparation checklist to make sure you cover all the elements.
Here are eight elements of pre-meeting preparation that will immediately improve your board meeting outcomes. (Or download our eBook with this list and more!)
1. Start Preparing as Early as Possible
According to OnBoard's Definitive Guide for Better Board Meetings, efficient board planning begins with a board meeting checklist at the end of the previous board meeting.
The corporate secretary and others take notes on items to include in the next meeting's agenda. After the meeting, the secretary and their team debrief and schedule to-do items, resulting in a "first draft" for the next meeting's agenda. The executive management team can also hold a "debrief" session a day after the meeting and send agenda notes to the secretary.
But that doesn't mean that you can now sit down and wait for a couple of days before the meeting to send out invitations. With so many things to handle, even if you have a "first draft" after the debrief from your previous meeting, you should start planning months before the meeting.
2. Review the Board's Annualized Calendar 6 to 8 Weeks Before the Next Meeting
The secretary or general counsel's office will review the annualized board calendar about six to eight weeks before the board meeting. (This is a separate document from the board meeting schedule, a compilation of board and committee meeting dates.) The annualized calendar contains the board's reoccurring actions and agenda items that are generally scheduled to take place at predetermined times.
The annualized agenda and notes from previous board meetings form the foundations for the meeting agenda. The CEO will have supplementary agenda items. Some companies have a regularly scheduled management meeting to discuss the board agenda and meeting plans. Having this meeting six to eight weeks out provides the Chief Human Resource Officer, the Chief Financial Officer, and others the opportunity to raise possible agenda items that may need full board attention. It also provides sufficient preparation time for the agenda and pre-read documents.
3. Approve the Final Meeting Agenda
Once the preliminary agenda is established, it must be shared with the board chair or lead director for comments, additions, or deletions. There should be few if any, exceptions to this rule.
4. Review Board Materials for Consistency Prior to Distribution
This is an internal job and helps to avoid management embarrassment. The general counsel, corporate secretary, or another designee, reads through the management prepared board materials for consistency and typos. Some boards have pre-set guidelines for board reports, such as using a "report format," which could show a maximum length, standard fonts, etc.
5. Prepare the Documents Needed to Discuss Agenda Items Thoroughly
Board materials include the documents needed to discuss agenda items thoroughly, and a "reference section for reports that may not necessarily be addressed in the meeting but provide important context (e.g., an investor relations report, governance hot topics report, environmental scan).
Many of the agenda items will have pre-read materials. It is helpful for the board "binder" to include a reference section for these items. Alternatively, a digital board governance solution may have a resource center that will contain all the essential governance documents board members may need to reference.
Items in this section will vary by organization but often include:
Investor relations reports (if not a regular agenda item).

Environmental scans.

A summary of "hot" governance topics.

Management's current response.
Other items may include future meeting dates, HR initiatives report supplements to division reports, and an insider trading reminder.
6. Increase Board Engagement by Sending Materials One Week Before the Meeting
Board members are busy people, and some may serve on multiple boards, so their schedules are almost always full. For them to find the time to prepare well, you should send the meeting materials a week in advance. If you send it a couple of days in advance, they might not find time to look at them, leave alone prepare well.
If the meeting materials need a last-minute change or addition, the secretary shouldn't wait. Instead, they should send in the materials with a blank page to show some missing information.
These preparations and last-minute additions can be handled better by a Board portal because it provides additional flexibility. If the need for a last-minute addition comes after the materials have been sent, the secretary can update them, with the changes being instantly available.
7. Know When to Hit the Meeting 'Eject' Button
Let's face it. Some meetings waste everyone's valuable time, especially when the same goals can be accomplished through email and other communication channels.
Be kind to your board, and keep everyone happy by not scheduling an unnecessary board meeting. Sometimes, it's better not to meet if there's:
No time to prepare

Another way to communicate and accomplish the same goal

A sensitive topic or personnel issue is better-handled one-on-one

A need to solicit numerous individual opinions
8. Prepare an Outline for the Minutes
Preparing for a board meeting doesn't end with sending meeting materials to the directors. Remember, the goal is to prevent any last-minute rushes and errors, so you also have to be ready to collect the discussions and resolutions reached during the meeting. You can achieve this by preparing an outline for the minutes of a board meeting.
Taking Pre-Meeting Preparation to the Next Level
Many of our customers have already been successfully leveraging OnBoard for this pre-meeting preparation by using OnBoard Tasks to manage, organize, and track their essential action items. But our team felt there was still an opportunity to help users take their pre-meeting preparation to the next level using a tool they already know very well: email.
The Meeting Brief Email is an intelligent email that alerts attendees when they are invited to a meeting and then coaches them on what next steps they need to take to prepare. Attendees learn from a second email about any outstanding action items they need to complete and the meeting materials still left to review.
These emails also provide insight into meeting materials receiving strong engagement from their peers, allowing users to ensure they are well-read and prepared on these agenda sections and topics.
In addition to these meaningful insights, the Meeting Brief emails also serve the equally critical functional purposes of confirming the meeting's time, location, and attendees' RSVP status. With so many people scattered and meeting these days virtually, having all this in one place is just another small way we're helping meeting attendees stay prepared.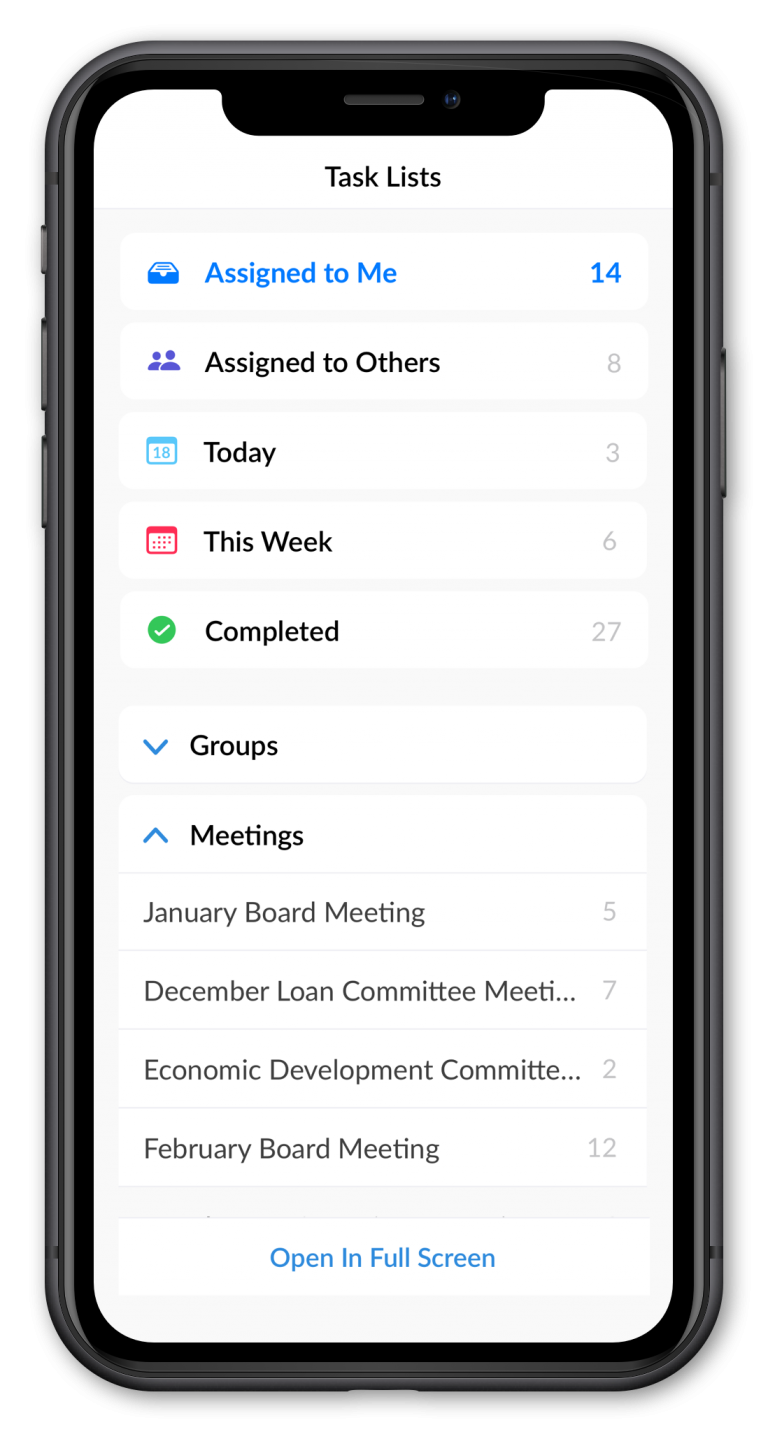 How Board Management Software Improves Meeting Preparation
Using board management software streamlines efficient meeting preparation for your board administrators, essentially helping them work more productively. With everything stored in one place, your staffers can easily find and compile the information they need or direct board members on where to find it.
According to OnBoard's Board Effectiveness Survey, more board management software users reported sending board materials earlier than non-users, and board members were better prepared overall. In addition, survey respondents reported the following:
79% said their boards have improved effectiveness in the past 12 months, with 59% citing the shift to remote work as the primary cause.

66% have seen improvements in board collaboration.

47% have spent more time discussing strategic issues.

57% used a digital board management platform. Amongst these respondents, 81% indicated their boards' improved effectiveness.

Of the 43% of respondents who did not use board management software, only 58% noted increased effectiveness.
Conducting a board meeting requires directors to prepare better, organize at a higher level, and engage more collaboratively than in in-person meetings. Use the following tips to ease your board preparation workload for in-person meetings.
Ready to upgrade your board's effectiveness with OnBoard, the board intelligence platform? Schedule a demo or request a free trial.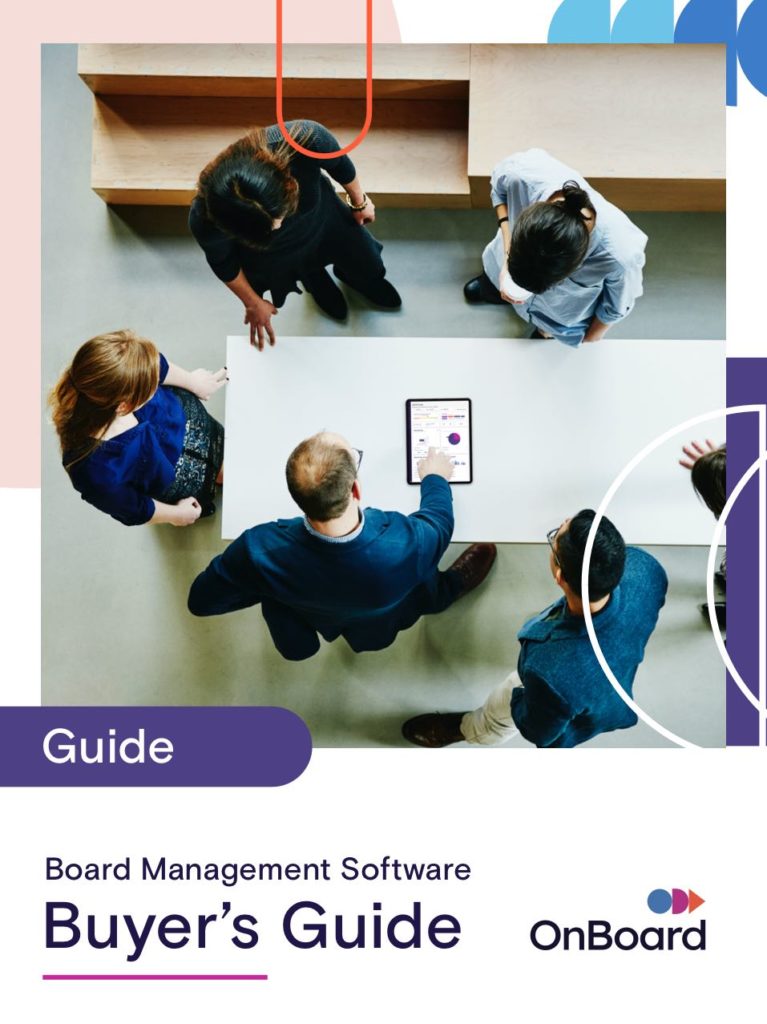 Board Management Software Buyer's Guide
A comprehensive guide on selecting a Board Management vendor that will make your board happy and keep meetings focused on strategy.
About The Author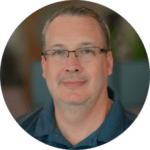 Adam Wire is a Content Marketing Manager at OnBoard who joined the company in 2021. A Ball State University graduate, Adam worked in various content marketing roles at Angi, USA Football, and Adult & Child Health following a 12-year career in newspapers. His favorite part of the job is problem-solving and helping teammates achieve their goals. He lives in Indianapolis with his wife and two dogs. He's an avid sports fan and foodie who also enjoys lawn and yard work and running.