Reading Time:
3
minutes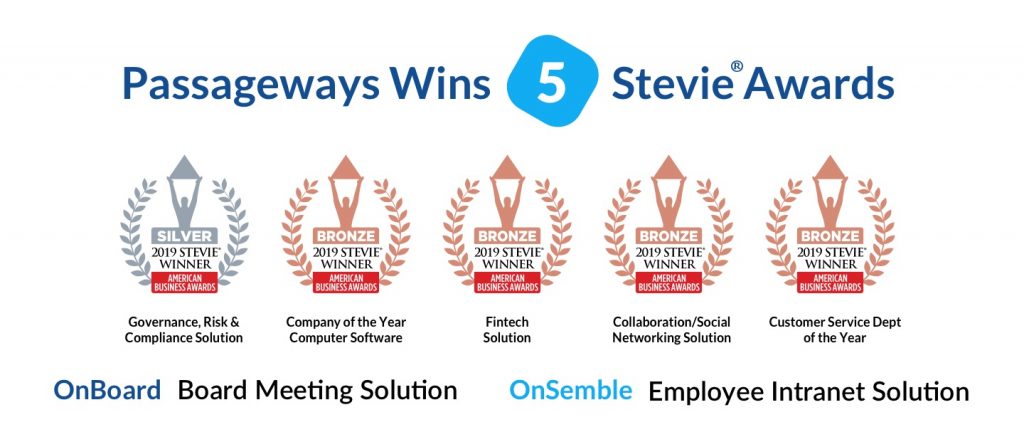 Passageways is thrilled to be honored as the winner of five Stevie® awards in the 2019 American Business. Headlined by acclaim for our OnBoard board meeting product, the awards recognize the quality and breadth of what we do every day at Passageways. From product innovations to celebrating our amazing Customer Success team, we are delighted to have won the following Awards:
Silver for OnBoard Board Meeting Solutions: Business Technology: Governance, Risk and; Compliance Solution
Bronze for Company of the Year: Computer Software – Medium
Bronze For Customer Service Department: Customer Service
Bronze for OnSemble Employee Intranet Solutions: Collaboration/Social Networking Solution
Bronze for System Permissions: FinTech Solution
"We are honored to win not one but five Stevie® Awards," said Paroon Chadha, Passageways Co-Founder & CEO. "These wins are a testament to the incredible passion and commitment of our team to create intuitive collaboration solutions. As we continue to accelerate on all fronts, recognition from the preeminent business award program fuels our ambitions and underscores just how useful our products are in the lives of our customers."
The awards included praise and affirmations from a panel of judges, those responsible for combing through thousands of submissions to discover those that genuinely had an impact. Acknowledging OnBoard's impact in the boardroom, one Judge wrote about Passageways, "The efficacious company that focuses on delivering enterprise solutions that improve governance and connect employees. OnBoard is a complete board governance solution that improves meeting outcomes for directors and administrators." Another joyfully encouraged "Board members [to] rejoice, OnBoard has arrived."
Passageways was praised for its customer-centric focus and an outstanding NPS score of +75%. A Judge acknowledged Passageway's commitment to customer success, saying "Great accomplishments by the Passageways Customer Success team, maintaining a world class NPS score, while absorbing a tremendous amount of growth."
The American Business Awards are the U.S.A.'s premier business awards program. More than 3,800 nominations from organizations of all sizes and in virtually every industry were submitted this year for consideration in a wide range of categories. More than 200 professionals worldwide participated in the judging process to select this year's Stevie Award winners. "The nominations submitted to The 2019 American Business Awards were outstanding. They illustrate the continued vibrancy of innovation and high level of achievement across the American economic landscape," said Michael Gallagher, president and founder of the Stevie Awards.
—
About Passageways
Passageways is a SaaS provider of collaboration solutions for boards and employees. Founded in 2003, Passageways creates products that improve governance and connect employees. OnBoard is a complete board meeting solution that improves meeting outcomes by empowering directors and administrators with the tools they need to focus on strategy during their next meeting. OnSemble an employee intranet and collaborative suite that aims to empower organizations with stronger engagement, increased productivity, and improved collaboration.
About the Stevie Awards
Stevie Awards are conferred in seven programs: the Asia-Pacific Stevie Awards, the German Stevie Awards, The American Business Awards®, The International Business Awards®, the Stevie Awards for Women in Business, the Stevie Awards for Great Employers, and the Stevie Awards for Sales & Customer Service. Stevie Awards competitions receive more than 12,000 entries each year from organizations in more than 70 nations. Honoring organizations of all types and sizes and the people behind them, the Stevies recognize outstanding performances in the workplace worldwide. Learn more about the Stevie Awards at http://www.StevieAwards.com.
About The Author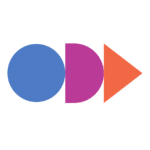 At OnBoard, we believe board meetings should be informed, effective, and uncomplicated. That's why we give boards and leadership teams an elegant solution that simplifies governance. With customers in higher education, nonprofit, health care systems, government, and corporate enterprise business, OnBoard is the leading board management provider.