Reading Time:
4
minutes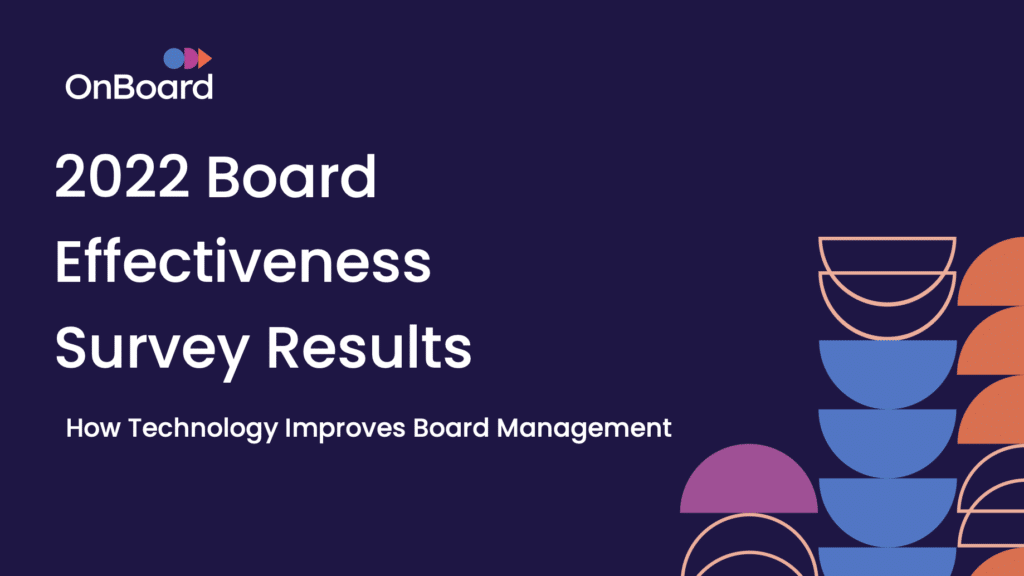 Webinar Recap: OnBoard surveyed more than 400 board leaders worldwide on how their boards performed in 2021. Here's what they said.
As boards continued to navigate the COVID-19 pandemic and the ongoing digital evolution throughout 2021, two things became abundantly clear:
Board management software will play an increasing role on boards of directors worldwide, even after the pandemic (hopefully) subsides.
Remote and hybrid meetings are here to stay.
Over 400 board leaders told us. They also shared plenty of other information about how their boards thrived in 2021, where they struggled, and where they're going in 2022 and beyond.
OnBoard's second Board Effectiveness Survey, which was available to board directors for a two-month period starting in December 2021, revealed plenty about the direction of boards worldwide. Let's take a look.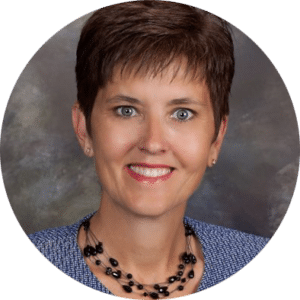 "It's a great tool for leveraging our collective work, for supporting our governing practices, and for gaining efficiencies as we work together across the Granite Partner company boards."
– Shelly Bauerly Kopel, Partner, Granite Partners
Who Answered the Survey?
Members of nonprofit boards made up the largest plurality of respondents, with 130, or 31%. Higher education board members were a distant second at 56 (13%), followed by health care (46, 11%), bank (36, 9%), technology (34, 8%), credit unions (25, 6%), and associations (15, 4%).
Board roles were fairly evenly represented, including:
Chief executive/chair (107, 26%)
Executive management (93, 22%)
Board administrator (87, 21%)
Board director (81, 19%)
Survey Result Takeaways
Board Effectiveness Survey results provided OnBoard with 3 primary takeaways to share. We'll cover the third takeaway in another blog. For now, let's focus on the first two conclusions:
1. Using board meeting software consistently makes participants more effective, more collaborative, and more confident in the security of board communications.
Here's the data that led OnBoard to this conclusion:
69% of respondents said their board has been more effective in the last 12 months
63% said their board is more collaborative in the last 12 months
85% are confident in board communications security today
Maybe more telling, 74% of respondents who use board management software say their board was more effective in the last 12 months. Meanwhile, 63% of boards who don't use board meeting software say their board was more effective during the same time period.
Finally, 91% of those who use board management software felt confident in their board's security, while 78% of respondents who don't use it felt confident in theirs.
While those disparities might not seem significant on the surface, consider this:
Board meetings often occur infrequently, such as once every three months, and typically last multiple hours. That puts efficient, effective, well-communicated meetings at a premium. An 11% increase in effectiveness could mean the difference between a smooth meeting that produces solid results for your organization, and one that falls short of those objectives.
The average cost of a data breach in 2021 was $4.24 million, according to an IBM report. That's a 10% increase from 2020. Is a 13% increase in board security the difference between a data breach and secure board communications?
2. Board member engagement is the primary driver of board effectiveness. The ability to focus on strategic imperatives also defines board effectiveness, according to respondents.
Here's what board leaders told OnBoard that prompted this conclusion:
49% of respondents say a more engaged board is a primary driver of board effectiveness
Board leaders ranked "focus on strategic imperatives" as the primary way they measure effectiveness, by a wide margin (see chart below). "Governance and continuity," "Establish and hit financial goals," and "Meet shareholder needs" ranked second through fourth, respectively.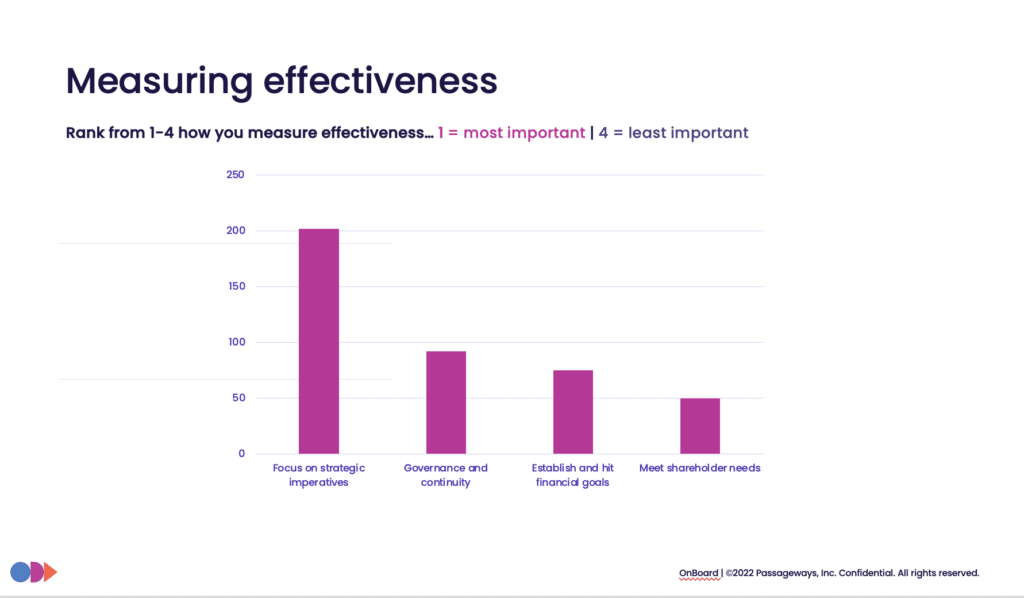 Maybe most importantly, boards that already utilized board management software maintained efficient use of board time (defined as 3 to 3.5-hour-long meetings) before and after the COVID pandemic forced remote work (see chart below).
Meanwhile, first-time tech-enabled boards required more meeting time (roughly 4 hours)
But there's good news for those folks: With adoption and better utilization of technology, new customers drove meeting time down, and efficiency increased.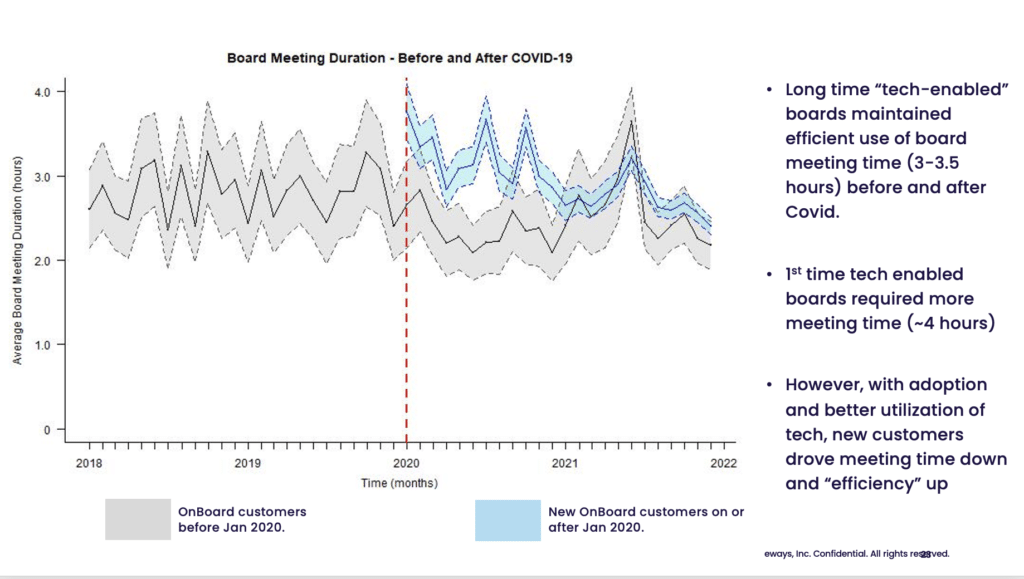 One of OnBoard's newest portal features is Meeting Feedback, which launched in October. It enables boards to create a continuous feedback loop to help improve meetings.
OnBoard's aggregate data shows 1,680 board members from 29% of boards overall gave a 4.49 score on their meetings, on a 1 to 5 scale. While it wasn't an overwhelming negative, the biggest negative centered around time management.
Another new feature, board assessments, enables boards to gather anonymous, honest feedback from board members. While board members scored every category of board management a 4 or higher, "Meetings, Agendas, and Materials" scored lowest (4.03). This shows a great opportunity for boards to further utilize software such as Agenda Builder, Minutes Builder, and others to bolster those aspects of their meetings.
The third conclusion from OnBoard's Board Effectiveness Survey results will come soon in a separate blog.
Want more in-depth survey results and analysis? Watch our Atlas Leadership Webinar series, "Board Effectiveness in 2022."
About The Author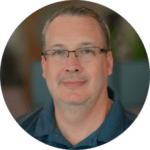 Adam Wire is a Content Marketing Manager at OnBoard who joined the company in 2021. A Ball State University graduate, Adam worked in various content marketing roles at Angi, USA Football, and Adult & Child Health following a 12-year career in newspapers. His favorite part of the job is problem-solving and helping teammates achieve their goals. He lives in Indianapolis with his wife and two dogs. He's an avid sports fan and foodie who also enjoys lawn and yard work and running.