Reading Time:
4
minutes
Valparaiso University, a private, Lutheran institution located about an hour southeast of Chicago, boasts a 25-member board of directors. When Rebekah Arevalo joined Valpo as a board professional about eight years ago, she said the board "thought we were being a revolutionary."
The board was using a board portal at the time that was built for banking systems. "With some love and duct tape and glue we made it perform like a board portal … it was a series of parent pages and uh subpages that I had to create from scratch and then just link to one another to give the appearance of a board portal."
Fast-forward a few years, and Valpo, thanks in part to Rebekah's research, purchased AGB OnBoard, but they didn't implement it right away. In 2020, the university promoted Rebekah to Chief of Staff, and she decided it was time to make the switch.
"(With AGB OnBoard), we weren't working in three different systems, and it was just going to make their experience much better," she said of the other board members. From there, the transition began. "We ran both systems simultaneously and we ran those for a couple of meetings and every committee meeting that is held in advance of our board meetings was held remotely. Part of the agenda was for me to go on and talk to them about AGB OnBoard and give them a quick tutorial."
During a recent AGB OnBoard webinar, Rebekah shared her experiences with AGB Program Coordinator Rob Wilson, OnBoard Account Executive Matt Maxwell, and other OnBoard attendees.
In addition to those initial tutorials, Valpo's board created a working group that included board administrators who support the community liaisons who work with the committees. They developed best practices and determined how best they could support the university's board and vice presidents through the board portal.
From there, board members who worked with AGB OnBoard while serving on other boards voiced their support and eased the minds of members who were uncomfortable with technology or skeptical about the portal's ease of use.
"One of our older board members said, 'If I can do this, anyone can,' and I think that sort of gave some ease," Rebekah said. "We all had a good laugh about it, but at the same time, everyone thought, 'OK, if he can do it, I think we all can do this.'"
They were right.
"It was a relatively easy task once they got into the system," she added. "It was easy to navigate for them and we tried to mirror the grouping of the information and the resources similar to the old program that we used so that it would be familiar to them in some sense."
Watch a video of the discussion with Valparaiso Univeristy's Rebekah Arevalo and AGB OnBoard below.
Not every higher education board will use AGB OnBoard the same way. For instance, Valparaiso's board doesn't have term limits, so it wouldn't use the Roles and Terms Management feature the same way a board that has term limits would use it.
But their board allows multiple liaisons to update agendas as needed, which not only made Rebekah's life easier, but also kept board members from needlessly waiting for agenda updates.
"In the past what would happen is they would send me these agendas, we would approve them and then I would go into the website that I had and build that out," she said. "If they realized there needed to be a change, they would have to wait until I was around because I was the only administrator. It gives those liaisons and support people the agency to go in there and make those changes, but it's more efficient. It's not going through four or five people before it gets on AGB OnBoard."
AGB OnBoard's permissions also give Rebekah and Ashley Stan, another board professional, the ability to have final say on the agenda's contents before it is distributed to the board as a whole. "We allow the admins to build out that agenda, but when we get ready to publish only I publish the agendas because it gives Ashley and me an opportunity to look through that and make sure there are no errors before it goes out officially to the board of directors," Rebekah said.
Rebekah added she uses the Notes and Annotations feature and Minutes Builder frequently. "It preserves the actual agenda so we can start from a copy of the agenda and build right into there by adding notes underneath each section," she said of Minutes Builder.
Despite Valparaiso's lack of term limits, the board still experiences its share of turnover. When new members join, Rebekah said, the learning curve isn't steep.
"There are younger board members and they're pretty savvy with technology, so it wasn't a heavy lift," she said. "I always meet with the new board members just to go over the basics, but I also now couple that with just navigating through, showing them the help on OnBoard. I walk them through how to use the help function on AGB OnBoard, but then I go through the very basic stuff, and I follow up with an email. It's a template that I have that I just give them to kind of um reinforce what we went over."
As for existing board members, any skepticism they had about the software was alleviated once they used it.
"They were a little concerned about technology," she said. "They wanted to know the rationale. They wanted to understand why we were switching. Having a software, whether it's AGB OnBoard or other software that just gives them one-stop shop has been helpful for us. Instead of having the board members trying to go to two or three or four different places to get information, being able to have all the resources there at their fingertips at any time has been really helpful."
About The Author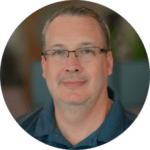 Adam Wire is a Content Marketing Manager at OnBoard who joined the company in 2021. A Ball State University graduate, Adam worked in various content marketing roles at Angi, USA Football, and Adult & Child Health following a 12-year career in newspapers. His favorite part of the job is problem-solving and helping teammates achieve their goals. He lives in Indianapolis with his wife and two dogs. He's an avid sports fan and foodie who also enjoys lawn and yard work and running.