We're the preferred virtual meeting platform for higher education boards & committees. AGB OnBoard gives you the digital power you need to prepare, organize, and run your board meetings – all in real time – with better efficiency and collaboration.
24/7/365 US-Based Helpline
150+ Institutions & Foundation boards
A Meeting Platform Developed Specifically for Higher Education
AGB OnBoard gives you the digital power you need to prepare, organize, and run your board and committee meetings – in real time – with better efficiency and collaboration. It's the leader in higher education board management because it's so intuitive that anyone can pick it up, and it just works.
With a combined 115 years' experience in Higher Education governance, AGB OnBoard delivers proven value: 99% of boards who purchase it renew each year. This combination of technology, expertise, enable boards and committees to make intelligent and informed decisions to achieve goals.  
Intelligent Board Management
AGB OnBoard is built to help everyone involved do their best work by removing friction and fostering collaboration. From preparation, through planning and follow-up, we've designed our platform to address the unique needs of directors, executives, and administrators alike, because good governance is a team effort.
Empowering Leaders and Teams
No matter where you or your organization are today, OnBoard is designed to elevate what's possible for your boards, committees, advisory boards, and alumni association to achieve.
Focus on the big picture by seamlessly managing activities, meetings, decisions, and discussions across one or many boards.
Free your board to govern more effectively and be better prepared for what's ahead by harnessing the power and insight of your board leadership.
Stay agile and adapt easily to changes as they occur by simplifying complex tasks and streamlining providing key information and insights.
Make better, faster, more informed decisions and improve operational efficiencies based on intuitive data and analytics. AGB OnBoard helps you surface actionable insights and coordinate board and leadership activities more easily, providing richer intelligence so you can act with confidence.
Keep your information safe with the most secure board software ever created. Combining industry-leading security, compliance, privacy and data protection that's certified and accredited by top global security standards bodies, AGB OnBoard ensures you have full control over who can access and utilize board information.
Cut down on complex, burdensome tasks and promote clarity and efficiency. Our intuitive software is designed to empower everyone from administrators and leadership teams to board directors to accomplish more and get the most out of interaction.
G2 Crowd's Leader inBoard Management Software
Capterra's Easiest to Use
Board Software
"The Best Education cloud-based solution"
Most Recommended Board Management Software
Market Leader Board Management Software
Exclusive Features & Content
AGB OnBoard comes fully loaded with AGB's Effective Committee Toolkit, nine books that provide best practices for boards and committees. It includes the complete set of eight AGB Board of Directors Statements on critical topics, ranging from shared governance and accountability, 
to innovation, fiduciary duties, and conflicts of interest.
Read real stories from other colleges and universities that strengthened their governance using AGB OnBoard.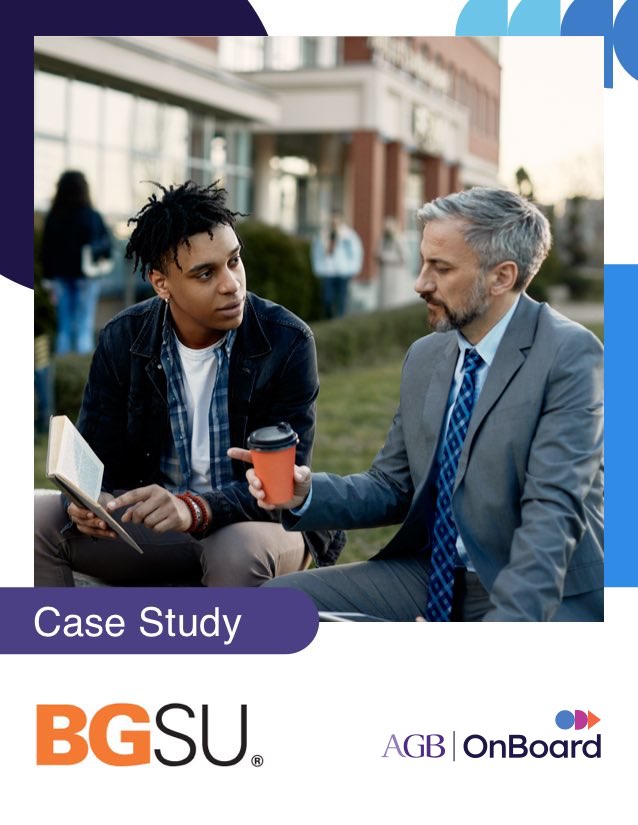 Bowling Green State University
BGSU Foundation and Alumni Board Members Stay Better Informed, More Engaged on a Single Digital Board Management Platform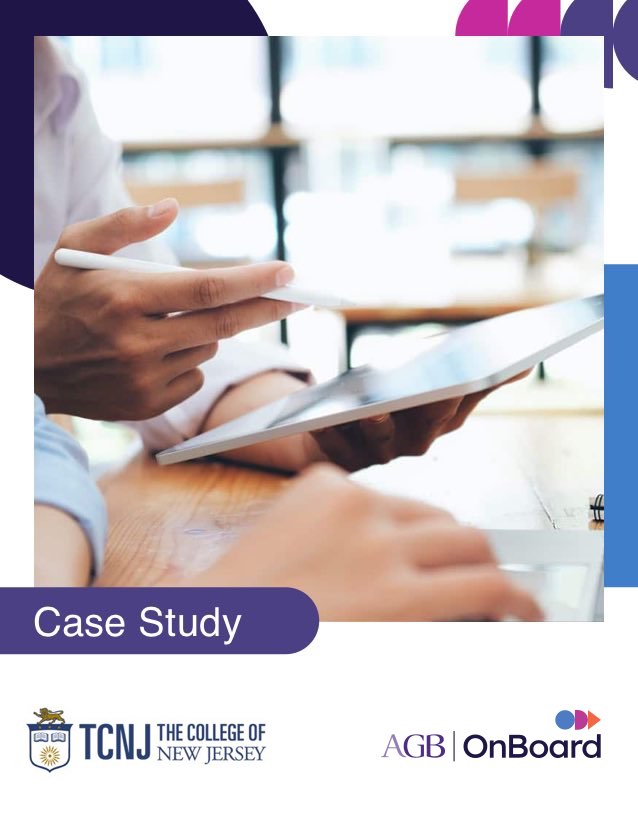 The College of New Jersey
A Single Digital Platform Helps the Board of Trustees and committees at The College of New Jersey Conduct Business with Ease
Benefits of Board Management Software For Higher Education
If you are actively seeking a board management platform or want to switch from your current provider, or are just beginning to explore board portals, this session will help answer the question if AGB OnBoard is the right fit for your institution's board.
Watch this live session and explore AGB OnBoard, the board intelligence platform vetted and trusted by AGB and thousands of higher education institutions –
Hear firsthand from Heather Fehn, a board professional with more than 20 years of experience in digital board management for higher education boards
Learn how AGB OnBoard can improve how your board's effectiveness
See AGB OnBoard in action
Ready to Find Out Where Boards are Going?
Talk to a board intelligence expert.