Reading Time:
5
minutes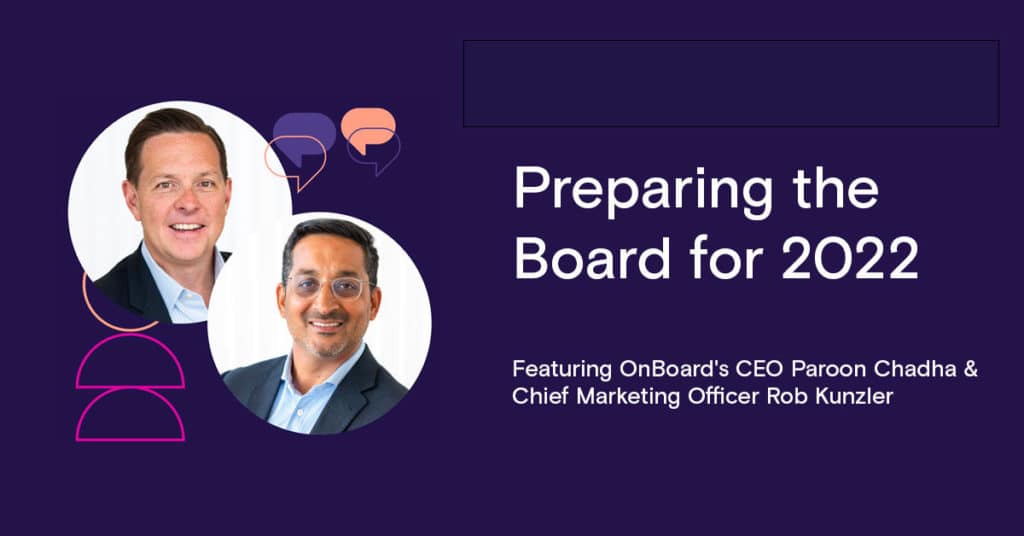 Webinar recap: Digital meetings are here to stay. How your board of directors adapts to this reality will likely shape your board's effectiveness in 2022 and beyond.
OnBoard Chief Marketing Officer Rob Kunzler shared a quote early in the Oct. 13 webinar, "Preparing the Board for 2022." It came from his co-presenter, OnBoard Co-Founder and CEO Paroon Chadha.
"There are three types of board meetings," Kunzler said. "There's the board meeting you prepared for, the board meeting you had, and the board meeting you wish you had."
Chadha followed that up by saying, "Board meetings take a lot of time to prepare. Those bad board meetings tend to stay with you."
As the hourlong presentation continued, Chadha and Kunzler offered suggestions to attendees that could morph the "meetings you wish you had" into the "meeting you had."
Those efforts focused on modern-day board meeting realities. Since the COVID-19 pandemic arrived in March 2020, boards everywhere were forced to pivot from an in-person format to a remote/virtual setup.
Now that boards have seen the benefits of hosting virtual meetings that go beyond mitigating virus spread, many have opted to stick with a digital format. During the webinar, OnBoard conducted a quick poll among attendees, asking how they currently conduct meetings.
Among the respondents, 54% said they conduct hybrid meetings (a combination of in-person and remote attendees), while 35% meet fully virtual. Only 11% said they were meeting fully in-person.
Kunzler and Chadha broke the topic into two major categories: four "new normal" observations for boards and their teams, and six practical recommendations for the new normal. Let's examine them.
Watch the Preparing the Board for 2022 webinar On-Demand Now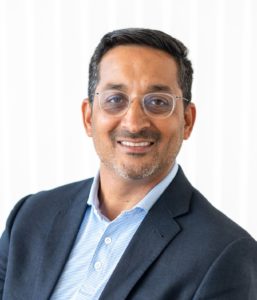 "Board meetings take a lot of time to prepare. Those bad board meetings tend to stay with you."
– Paroon Chadha, OnBoard co-founder and CEO
4 'New Normal' Observations for Boards and Their Teams
The best board meetings obsessively bias the agenda toward action. "You have to lead with a crisp agenda that is front-loaded," Chadha said. "These meetings are happening in a digital world where people can get distracted, because the next device is right next to you. Don't take them away from the work at hand."


Exceptional virtual board engagement can be achieved by thoughtfully digitizing all board meeting aspects. Board dinners and pre-meeting coffee conversations vanished when in-person gatherings disappeared. Chadha suggested virtual board dinners, wine tastings, and other similar virtual gatherings in which vouchers are sent to board members beforehand so they can still partake together while on-screen.


Digitally native boards are intentional about hybrid meetings, and actively prevent "digital dissing." OnBoard generally recommends avoiding hybrid meetings, but Chadha said there's a way to host a hybrid meeting effectively. "Those are the most challenging meetings," Chadha said. "It's important to plan and plant questions and reminders so you're not forgetting the board member who's dialing in all the way from the UK with a six-hour time difference. Those are the kinds of things that leave your board disengaged like nothing else."


The lack of a physical third dimension can kill the spirit of a board; the best avoid cold opens with conversation and engagement. One way to overcome this challenge, Chadha said, is to open board meetings with a "soft start" — 15 to 20 minutes of small talk. He suggested engagement-starter questions such as, "I will eat anything put in front of me except …" or "Summarize your childhood in three words." "It will help you contextualize where they're coming from … It allows you to know a little more about your directors."
6 Practical Recommendations for the New Normal
Train up and embrace the full features of enabling technologies. These include Zoom, board intelligence tools, and meeting management. Security is often natively embedded in these tools and is stronger than ever, Kunzler said. "There's obviously some initial training, but once they get there, [board members] love the experience," Chadha added.


Lean into, leverage, and operationalize past experiences and diversity of your board. "Boards are like an Olympic national team," Chadha said. "You're often not recruited for just one skill. You need to have a good understanding of what skills, what experiences [board members are] bringing to the boardroom."


Embrace the nuances of "digital chairing" to stay on target and on time. "When you were physically in the room, you could see people check their watch. Those visual cues are missing in a digital format," Chadha said. "We have worked hard to build software that allows you to stay on top of this."


Extend the value of impact of your meeting through digital task management and collaboration tools. "Your minutes are also a legal record," Chadha said. "To get them accurate is extremely important. If there is ever an audit and your minutes are not circulated within a reasonable time frame, that process could come back and bite you."


Weave security and compliance into the fabric of digital board transformation. Chadha suggests the only record you leave behind from board meetings is a clean copy of the board book and the meeting minutes, to minimize your liability from the meeting.


Analyze everything and create continuous improvement with meeting and board engagement feedback. "We've spent the last 12 months trying to build the analytics that are going to make your board meetings more powerful," Chadha said. "We are making sure the meeting that you had in mind is the meeting you actually deliver."
The Bottom Line for Boards in 2022
The way boards operate has changed exponentially in the last 18 months. Fortunately, digital board solutions have helped make the transition under which most boards operate relatively seamless.
"This is a unique point on the calendar," Chadha said. "We know there's a lot more diversity that needs to be added to our boards. We also know as business continues to get more complex, new skills need to be onboarded. With all that said, wouldn't it be nice to give each one of your board members and committee members the one gift that will make them informed, efficient, and really uncomplicate their lives? There's plenty of time between now and the end of the year to think about this, and it's so much easier as an organization to just say from January 1 onward, our board and committee meetings are going to be digital."
About The Author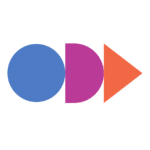 At OnBoard, we believe board meetings should be informed, effective, and uncomplicated. That's why we give boards and leadership teams an elegant solution that simplifies governance. With customers in higher education, nonprofit, health care systems, government, and corporate enterprise business, OnBoard is the leading board management provider.