Reading Time:
3
minutes

As you've heard, we recently announced OnBoard receiving a $100M growth investment.  With this new fuel, our mission is confirmed and is within reach: OnBoard will shape a new era of corporate effectiveness, collaboration, and productivity; all powered by the next level of board intelligence.   
We believe strongly that the future of board meetings must be informed, effective, and uncomplicated.  
We live in an increasingly complex world and the most important work, in any organization, frequently occurs within their boardroom. But outdated processes, fragmented communication, and a lack of actionable insights have held boards back from their best performance.  
The next era for digitally transformed boards is upon us and it arrived more quickly than most thought possible. It was just 10 years ago that iPads first appeared in board meetings. The next most transformational event happened in the last 18 months with the global pandemic.  Boards faced the single most challenging business environment in a generation, while they were simultaneously forced to adapt to virtual meetings and all-digital communications and workflows. 
 The shift towards virtual meetings and digital boardrooms was extremely rapid, and for most, somewhat uncomfortable – but it is now irrevocably here to stay. Now that boards and leaders have experienced the several benefits of using a board room technology that simplifies and optimizes the board interactions, analog boardrooms and tedious processes are finally going away. Make no mistake, there is no going back. 
This growth investment signals a milestone not only for OnBoard as a thriving business, but for our space itself. Boards orchestrate the rhythm, pace, and strategic focus of every organization. The work of a board is no more profound than in times of crisis, when coordination, effectiveness, and sound decision-making are paramount.  It is for this reason, we developed – and now seek to rapidly advance – the OnBoard board intelligence platform. 
We are re-committing ourselves at every level to our vision: to create a future where elegant technology frees boards and leadership teams to make better decisions and pursue bold action. 
What does this mean?   
For customers, it means a vigilant focus on simplicity, ease-of-use, and making formerly complex concepts and tasks simpler. It also means finding new ways to delight our customers; in the way we serve them, how we interact with them anywhere, anytime, on any device.  It means anticipating their needs by leveraging analytics and intelligence in OnBoard to serve more as a coach. It also means remaining the industry's most secure, reliable, and technologically advanced board management solution. Period. 
For our employees, it means we will continue to invest in the very best talent and remaining true to our roots. It means never abandoning the values that define not only what work we do, but also how we do our work. It means giving each member of our team the space and resources to think and deliver big; to innovate to our customers' and partners' advantage. 
I am convinced, we will bring intelligence to empower and engage not only the board, but also the entire organization in which they work. And with this in mind, we are going to relentlessly innovate; test and try new ideas in partnership with our customers; listen and learn from our partners who care as deeply about our customers as we do; and support, nurture and grow our employees as our most valued resource as they are the force behind both our technology and services.    
If you want to help shape this future, whether you're a customer, a prospect, a partner, or professional looking for a new career path, I challenge you: Now is the moment to join us at OnBoard. 
Here's to inspiring and enabling boards to be their best! 
I am convinced, we will bring intelligence to empower and engage not only the board, but also the entire organization in which they work. And with this in mind, we are going to relentlessly innovate.
About The Author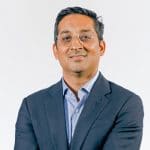 Paroon Chadha co-founded Passageways in 2003 and continues to lead its business strategy, as CEO. He serves on Boards at Passageways, Big Brother Big Sister of Greater Lafayette, Indiana University Simon Cancer Center, and TechPoint. He was a founding member of Youwecan.org, and is an angel investor in several technology companies.