Annual General Meetings Go Virtual
Reading Time:
3
minutes
It's May and we are in the middle of Annual General Meeting (AGM) season. When held by a public company, the AGM provides a forum where shareholders of a company can directly engage the management, vote on impotent management issues, question the board, and interact with their fellow shareholders. Often mandatory, these meetings may be required by state or federal law, or by the by-laws or charter of the organization.
Giving the Green Light for Virtual AGMs
The number of AGMs shifting from physical, in-person meetings to virtual has risen from nearly zero in 2014 to 7.7% among the Russell 3000 (the 3000 largest US-traded stocks) in October 2019. As with other important meetings, however, the ongoing COVID-19 pandemic has accelerated this trend. Indeed, it has forced many organizations to identify alternative arrangements for their yearly gathering or consider delaying it altogether.
Recognizing these difficulties, the Securities and Exchange Commission (SEC) recently issued guidance that provided flexibility for companies seeking to change the date of their meeting or to utilize technology to hold a "virtual" shareholder meeting.
The National Credit Union Administration (NUCA) took similar action and provided model language for Credit Unions to amend their bylaws to authorize virtual member meetings "virtually and without an in-person quorum if all of the … conditions apply and are certified in meeting minutes by a resolution of the majority of a quorum of the board of directors."
How Should Your Organization Proceed?
Organizations considering hosting a virtual AGM should first consult state law and their charter or bylaws to ensure they are operating in compliance. The organization should then identify a technology solution that allows them to uphold the spirit of the AGM and ensure meaningful participation from the shareholders.
How OnBoard Can Help With Your Virtual AGM
OnBoard virtual meeting management software can support your virtual AGM needs. The platform provides:
World-class security built in Microsoft Azure to deliver full disaster recovery and active geo-replication.
Complete data encryption for data in transit between a user's device and at rest.
Full mobile accessibility so your Board and shareholders can participate from anywhere on any device.
An unlimited Resource Center that provides you a central location to quickly upload, manage and share all relevant information with your attendees.
Secure Voting and Approvals to record all key decisions made at your AGM.
Web Conference Integration that allows members to meet face-to-face directly within the platform and also stream the meeting to additional parties as needed.
Hosting your virtual AGM with OnBoard makes it possible for more shareholders to attend and participate in your organization's governance.
About The Author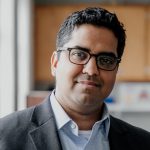 Director of Business Development and Government Strategy